Blog #5 – May 2022
2023 FEI World Cup™ Finals in Omaha to Give Vaulting New Exposure
Vaulting to Join Dressage and Jumping Finals on the World Stage Next April
Next April 4-8, the world's top Dressage, Jumping, and Vaulting athletes will descend on Omaha, Nebraska, for the 2023 FEI World Cup™ Finals at the CHI Health Center Omaha, site of the highly acclaimed 2017 FEI Jumping and Dressage World Cup™ Finals. The 2023 Finals will mark the first time an FEI Vaulting World Cup™ Final will be held in front of a North American audience.
Simply described as gymnastics on horseback, Vaulting is a harmonious bond between horse and athlete that creates awe-inspiring acrobatic displays of skill and precision. While some may be unfamiliar with Vaulting, the discipline has a long history. Vaulting was featured in the Roman Games dating back some 2,000 years when acrobatics and artistic riding were performed across the back of a moving horse.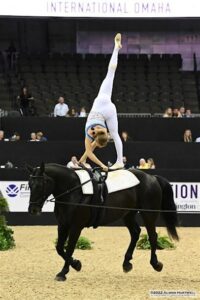 Photos by Alison Hartwell
Vaulting was actually part of the Olympic Games at Antwerp in 1920 and was a demonstration sport in Olympic Games held at both Los Angeles in 1984 and Atlanta in 1996. Vaulting was recognized by the FEI in 1983 and has been a central part of the FEI World Equestrian Games since its inception in 1990. While the FEI has held a World Cup Final for Vaulting for over a decade, next April will mark, as mentioned above, the first time it is being held in the U.S. which presents the FEI discipline with a great opportunity for new exposure and visibility.
"I think this is a fantastic opportunity to grow the sport of Vaulting," said Kristian Roberts, who represented the U.S. in four Vaulting World Championships and the 2019 World Cup Final in Saumur, France. "It's a great opportunity to show our care, compassion and the wonderful work of harmony that we have with the horses."
All-Session tickets for the 2023 FEI World Cup™ Finals in Omaha are on sale now via Ticketmaster.com. Included at the Ticketmaster.com site are options for VIP and hospitality lounge passes and fully catered ringside tables for the duration of the entire event. Don't wait, order your tickets today!
Go to www.OmahaEquestrian.org to learn more about what will surely be one of the greatest  events you will ever see!